This Tangerine Martini (aka Tangerini) is packed with Vitamin C and sure to brighten up anyone's day. It's probably best to have two, don't you think?
Post and recipe by Alison of A Girl Defloured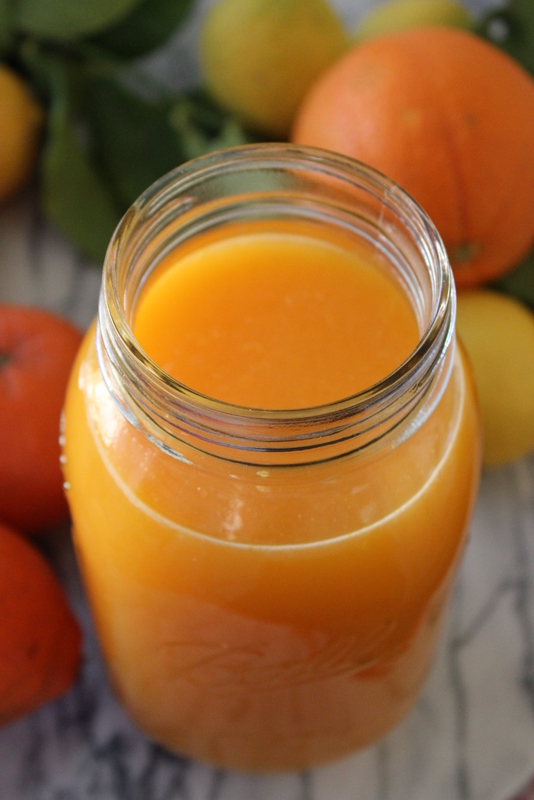 Sunny California, home of the citrus:
I realize that in winter many suffer a bit through the cold, through the snow and rain, through the relentless gray skies and shorter days. But here in Southern California we've had day upon day of gorgeous, sunny weather and lunches eaten outdoors in sundresses and flip flops. The daffodils and tulips are up. And so are my spirits.
I spent all of January, and most of this month caring for my daughter who broke her leg on December 28th when she was thrown from a horse. She's a good patient, but boy it's hard to hear MOM! called across the house for the umpteenth time. She's back in school this week, and I'm doing a little dance, remembering what it's like to have my days to myself again. Yipee.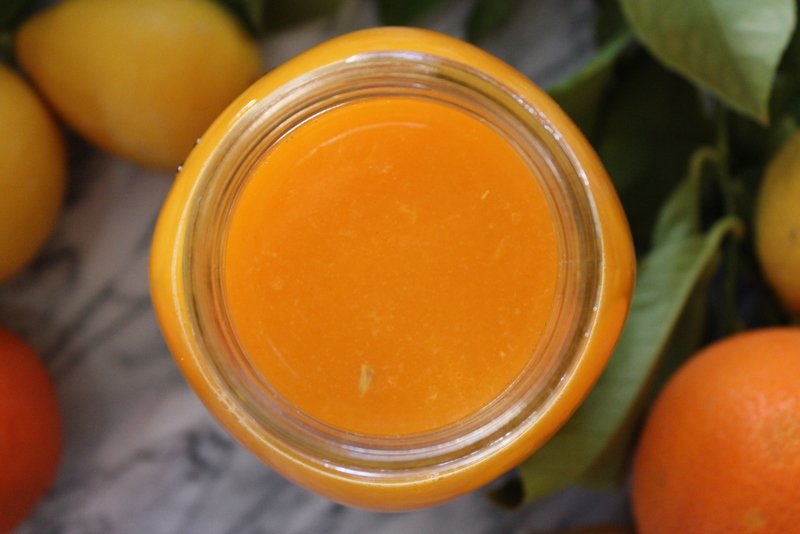 But back to winter. Here winter means citrus and my CSA box has been overflowing with all sorts of wonderful things from tangerines, to lemons, to oranges (blood and navel), and grapefruits. (Did you know California grows 80% of the nation's fresh-eaten citrus?) I've made lemon curd, lemonade, and candied orange slices. And in order to make room for the new crop of fruits that would be coming in my box, I squeezed a whole pile of tangerines, filling a quart-size mason jar to the top with brightly colored juice.
The best use of citrus juice? Cocktails, obviously.
The juice tastes incredible on it's own. (But I can never leave anything alone.) So I added a little citrus vodka, and some Cointreau to make a martini recipe. A friend stopped by, we made another round and sipped them well into the warm winter evening, windows open, our laughter and conversation spilling out into garden where those confused daffodils had already folded up their petticoats and gone to sleep.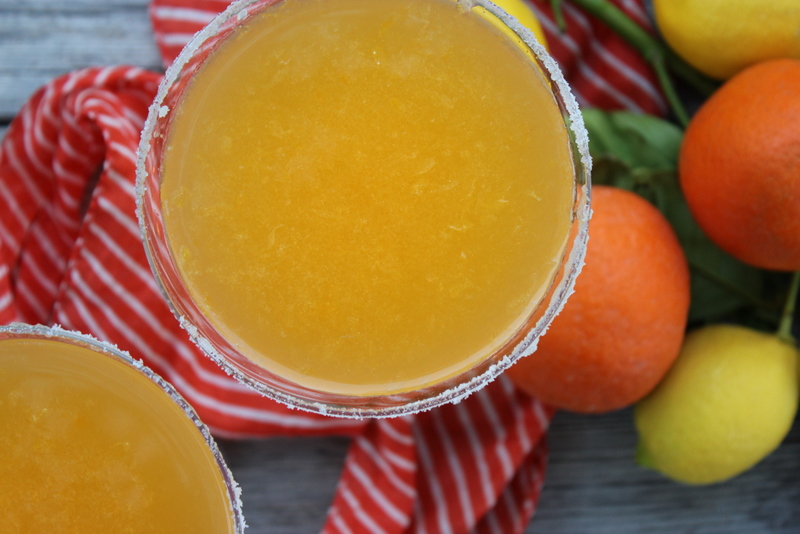 Let's make this Tangerine Martini! You'll need:
Fresh Tangerine Juice (or store bought)
Mandarin or citrus vodka
Cointreau
Sugar (for the rim, optional but encouraged)
Yep, even if it is made from wheat, plain vodka is gluten-free. You do need to check on flavored vodkas to make certain gluten has not been added. In this recipe, we call for Absolut flavored vodka, which is gluten-free. Ciroc flavored vodkas (made from grapes) are a good choice as well.
Let's make this citrus martini:
Tangerine Martini Recipe
This gorgeous martini packs a bright citrus punch. Serve it straight up in a martini glass, or over ice with a splash of soda.
Ingredients
2

ounces

freshly squeezed tangerine juice

2

ounces

Absolut Mandarin vodka

2

ounces

Cointreau

sugar for the rim
Instructions
Rub the rim of 2 martini glasses with a cut lemon and dip into a plate that's been lightly coated with sugar.

Place the tangerine juice, vodka and Cointreau into a cocktail shaker and shake vigorously for 30 seconds.

Strain into the glasses and serve immediately.
More Martini Recipes to Try:
This Fresh Pomegranate Martini is our favorite pomegranate juice cocktail recipe! It's a perfect combination of tart, sweet and refreshing.
This light and refreshing violet champagne cocktail, which our friend Alison fondly calls the Elizabeth Taylor, has a touch of violet liqueur, a splash of lemon, and is topped with brut champagne.
This delicious Chocolate Martini recipe is one of our all-time favorites. It's gluten-free of course, and it's easy to make it dairy-free too. You can double the recipe in a standard cocktail shaker, and you probably should, because you'll want to share it with someone you like a whole lot. Or you'll want another one for yourself.