Fresh apple pie is always delicious - and these Vegan Gluten-Free Apple Hand Pies from Sarah Bakes Gluten Free are extra yummy.
Gluten-free apple pie - a fall treat everyone can enjoy.
Fall is just around the corner, and you know what that means…apple season! We're talking apples here. Juicy, crisp apples. Wrap them in a flakey crust that fits right into your hand, a definite win. To be perfectly honest, I know apple pie seems like a bit of work in the kitchen, but these apple hand pies aren't complicated…and totally worth the effort!
The apples matter.
The best apples to for gluten-free apple pie are tart baking apples such as Granny Smith or Pink Lady apples. Really, you're looking for any tart (usually green, sometimes pink) baking apples.
For more apple details, check out this amazing apple infographic created by Sean Seidell.
When apple hand pie isn't your favorite...
Try these other vegan + gluten-free hand pie recipes:
These Raspberry Hand Pies from Sarah Bakes Gluten Free are so delicious...and I might add, quite darling! The simple pie dough recipe and easy raspberry filling take a bit of time for rolling, slicing and crimping, but once they are baked up you will enjoy a flaky, warm, fruity pie. I love that you can pick just pick them up and take a bite. And don't forget the sugar sprinkle of love.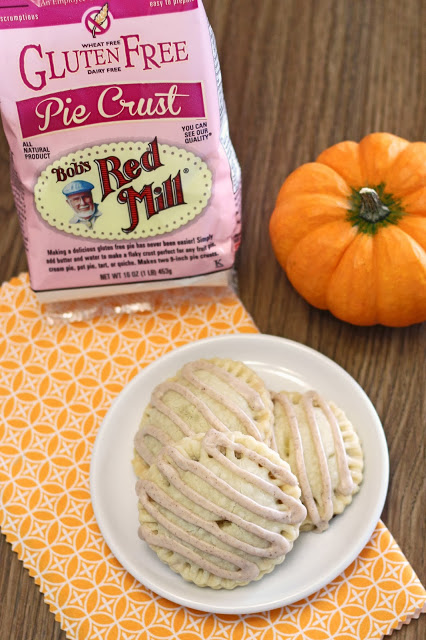 Pumpkin pie is at the very tippy-top of fall favorite desserts. These delightfully "Fall-ish" Pumpkin Hand Pies start with a stunning dairy free pie crust Sarah makes with Bob's Red Mill Natural Flour and chilled Earth Balance vegan butter for a flaky and flavorful gluten free crust. The simple pumpkin filling in these hand pies is complemented by a drizzle of cinnamon glaze that is irresistible. 
These Sweetheart Cherry Hand Pies use frozen dark cherries [available all year long] and just a few simple ingredients. Sarah's recipe has no store-bought cherry pie filling, so these pies are free of unnecessary ingredients and dyes and have a sweet, tart goodness you'll enjoy. Indulge yourself, and pair them with dairy free vanilla ice cream!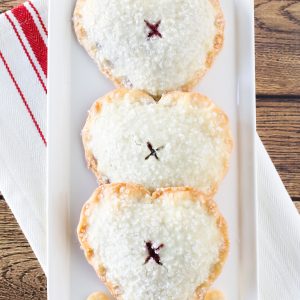 Gluten-free apple pie swaps:
Have a favorite fruit or just one you need to use? You can swap many fruits to make these gluten-free vegan hand pies:
pears
apricots
plums
nectarines
blueberries
blackberries or mixed berries
persimmons
Using the filling recipe for the Sweetheart Cherry Hand Pies, substitute 10-12 ounces of chopped fruit for the cherries, do not drain off juices. Add sugar, cornstarch, water and lemon juice to a medium saucepan and stir to coat the fruit.
Over medium heat, bring fruit mixture to a low boil and continue to stir until juices have thickened (about 5 minutes), then remove from heat and allow to cool.
Vegan Gluten-Free Apple Hand Pies
Fresh apples are delicious in just about anything, but this gluten-free vegan apple hand pies recipe from Sarah Bakes Gluten Free is extra yummy.
Ingredients
apple filling
2

apples

peeled, cored and diced

3

tablespoons

cane sugar

2

teaspoons

corn starch

1

teaspoons

fresh lemon juice

½

teaspoon

ground cinnamon

pinch

ground nutmeg

pinch

ground ginger
Instructions
Sift together the flour blend, sugar and salt. Add the vegan butter and shortening. Using a pastry cutter, combine until resembles a course meal and butter pieces are less than pea-size. Pour in 4 tablespoons cold water and vinegar. Continue to blend until dough comes together (add another tablespoon of water if needed). Pat dough into a round disc, wrap in plastic wrap and place in refrigerator for an hour or until ready to use.

To make filling, start by preparing apples. Peel, core and dice the apples into small pieces. In medium bowl, mix together apples, sugar, cornstarch, lemon juice, cinnamon, nutmeg and ginger. Set aside.

Preheat oven to 375 degrees F. Line two baking sheets with parchment paper. On counter surface, lay out a large piece of plastic wrap.

Place pie dough in center and top with another large piece of plastic wrap (keeps dough from sticking to rolling pin). Roll dough to ⅛″ thick. Using 4″circle cookie cutter, cut dough into circles and place on baking sheet. Repeat with remaining dough.

Place heaping tablespoon of filling into center of each pie dough circle. Carefully fold in half and gently press to seal dough (if dough cracks, just pinch back together). Using pastry brush, brush tops of pies with coconut creamer and sprinkle with course sugar. Use small knife to cut ½-inch cut into top layer of each pie for steam to escape. Bake in oven for 20-25 minutes or until golden brown. Allow to cool for 10 minutes on cooling rack. Serve warm.
Nutrition
Calories:
145
kcal
Carbohydrates:
19
g
Protein:
2
g
Fat:
8
g
Saturated Fat:
2
g
Polyunsaturated Fat:
2
g
Monounsaturated Fat:
3
g
Trans Fat:
1
g
Sodium:
128
mg
Potassium:
34
mg
Fiber:
2
g
Sugar:
8
g
Vitamin A:
17
IU
Vitamin C:
2
mg
Calcium:
13
mg
Iron:
1
mg
The quintessential dessert, a French Apple Pie, made gluten-free by A Girl Defloured and topped with a scrumptious crumb crust.
Gluten-free apple recipes you might also like:
Article courtesy Sarah Hornacek, Sarah Bakes Gluten Free, edited by Diana Losey