Article courtesy of Alison Needham, A Girl Defloured
It's no secret to those who know me well, that I am obsessed with Mexican food. Sometimes I eat it three meals a day. (Sometimes I only eat it twice). At any rate, it's safe to say that it's something that I dish up on a regular basis.
Surprisingly, it is one of the few "ethnic" cuisines that all of my children can agree to like. My kids LOVE my carnitas. And they like Americanized ground meat tacos too. But isn't it true that even our favorites get a little tiresome after awhile?
So in an effort to shake it up a little bit, I purchased a frozen 1 pound bag of mixed seafood (that contained shrimp, scallops and squid) and a package of Soyrizo, vegetarian chorizo. In many ways this meal felt like cheating–the seafood was already prepped, and the soyrizo tastes so much like the real thing my kids had no idea it wasn't meat. Best of all, the entire meal came together in about 10 minutes, which made it perfect for a weeknight!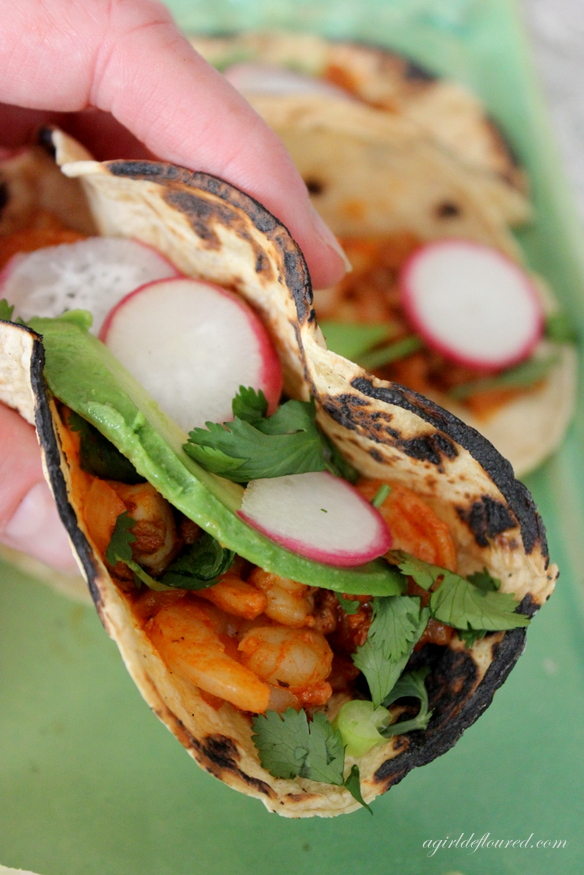 Since Cinco de Mayo falls on a weekday this year, these quick, meatless tacos would be perfect. Don't forget the margaritas (like this Skinny & Fizzy Margarita, or thisCoconut Ginger Lime Margarita or this Strawberry Coconut Margarita)! I think this Radish Cucumber Salsa would also be a perfect accompaniment. Cheers!
Ingredients
1 tablespoon of olive oil
1 package of gluten-free soyrizo (vegetarian chorizo)
1 pound of mixed seafood, cleaned (and thawed and drained if frozen)
1 tablespoon of freshly squeezed lime juice
¼ cup chopped cilantro
12 corn tortillas
avocado, cilantro, onions, and sliced radishes for garnish
Directions
Heat a large skilled over medium heat. Drizzle oil in pan, remove Soyrizo from its packaging and place in pan. Stir frequently until heated through.
Add the seafood to the pan, and cook, stirring occasionally, until the seafood is cooked through, about 5-7 minutes.
Stir in the lime juice and cilantro, remove from heat and set aside.
Warm the tortillas over the flame of your gas range, or in a dry skillet over high heat.
Spoon the seafood mixture into the tortillas, and top with garnishes of your choice.